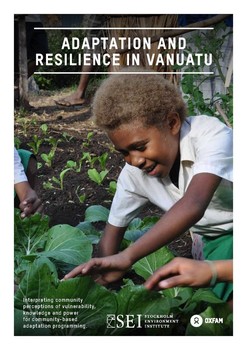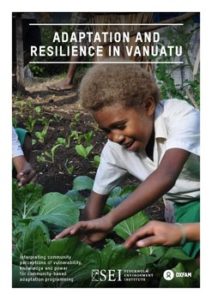 Download this Document
Adaptation and Resilience in Vanuatu 
Climate change is a growing threat to Vanuatu, and community-based climate assessments have recorded increasing temperatures, changed rainfall patterns and rising sea levels.
This research, led by Dr Jon Ensor from the Stockholm Environment Institute, is concerned with how development and humanitarian agencies have aimed to increase the resilience of women and men in Vanuatu to the unavoidable impacts of climate change, and is focused on context in which this work has taken place and the methods that have been adopted.
This research specifically examined the work of the agencies participating as members of the consortium in the "Yumi stap redi long climate change" program.
This Vanuatu NGO Climate Change Adaptation Program was led by Oxfam in Vanuatu and was guided by the Community Resilience Framework.
In framing their work around the concept of resilience, the program is connecting with a growing body of thought about what resilience means in the context of global environmental change, and how it can be supported in practice.
Research Methodology
This research used a mix of methods, including interviews and group discussions with community members, interviews with key informants including government officers, NGO staff and other stakeholders, and a review of critical program documentation.
The fieldwork was undertaken in November 2014.
Key findings
The research highlighted the need for adaption and resilience to move beyond 'technical' interventions that focus on individual agency and the ability to absorb shocks, to fostering adaptive capacity and broader transformation.
This recognises that issues of vulnerability are based in issues of structure, power dynamics and cultural norms, and that these issues need to be identified and where appropriate, addressed in order to foster resilience at the community level.
It also highlights the challenge for NGOs to adopt ways of working that structure can be accounted for in any climate change adaptation work.
Ten key recommendations are provided to those engaged in the implementation of community based adaptation initiatives to support a shift towards this approach.
Published by : Oxfam in the Pacific
Keywords
Adaptation
Climate change
Evaluations
Gender
Resilience
Stockholm Environment Institute
Vanuatu