A large gathering of regional non-governmental organisations heard that better dialogue between them, government and donor partners is needed to develop Pacific countries effectively.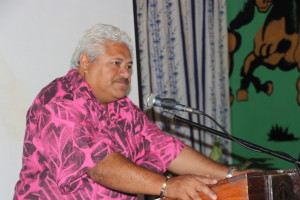 The Cook Islands was represented by Cook Islands Civil Society Organisations (CISCO) director Ngara Katuke at a regional consultation for civil society organisations (CSOs) to help form effective development partnerships. She provided a report on her return.
The meeting – held in Nadi from November 4 to 12 – discussed strategic partnerships and acknowledged the support of development partners, including the Australian Aid Programme and the European Union, said Katuke.
The meeting also acknowledged the efforts of regional partners, and NGO representatives reported on their country's civil society achievements.
"The meeting appreciated the wide range of activities and support that CSOs are providing to underpin country development and the important role of national liaison units," said Katuke.
Those at the meeting were saddened at the systematic defunding of national and regional NGOs following changes in donor and government priorities, she said. New legislation that negatively affects NGOs was also discussed, as this leads to the breakdown of these organisations.
"Despite these difficulties the meeting recognised that 'development effectiveness' is a central agenda topic for all Pacific CSOs, especially given the international recognition by governments of civil society players as development actors in their own right," said Katuke. "Given that this will require a Pacific-wide effort, participants committed to ensuring wider involvement and engagement at both the regional and national levels." Representatives requested the Pacific Islands Association of Non Governmental Organisations (PIANGO) Secretariat explore options for financial and technical support to help the Pacific NGO partnership cope with regional issues. PIANGO organised the conference.
A consistent theme throughout the meeting was the need to focus more in advancing gender equality issues – recognising this is fundamentally a human rights issue, said Katuke.
"The meeting acknowledged that while gender equality is an issue to be addressed by both men and women there is a particular need to work on empowering women and eliminating violence against women in the Pacific."
More sustained dialogue with governments and donors was called for – recognising that governments and CSOs are mutually accountable for development results, said Katuke.
"The meeting identified the need for more capacity building on leadership development, communications, coalition building, community action research and policy advocacy."
Attendees also received a report on PIANGO's climate change work and the Kiribati field research it is carrying out with the help of the Kiribati Association of NGOs.
The conference was part of regional and sub-regional consultations being held worldwide as part of the follow-up from an aid effectiveness forum held in December 2011 in Busan, South Korea.
The meet was attended by national NGO leaders from Fiji, Kiribati, New Zealand, Niue, Marshall Islands, Papua New Guinea, Solomon Islands, Samoa, Tonga and Tuvalu.
Regional NGOs also attended, including Pacific Conference of Churches, Pacific Foundation for the Advancement of Women, Pacific Disability Forum, Fiji Women's Crisis Centre and Pacific Aids Foundation. Development partners like the Australian Aid Programme, Pacific Leadership Programme, European Union, the International Fund for Agriculture and Development and the Pacific Islands Forum Secretariat were represented as well.
Monday November 26, 2012 Written by Administrator Published in Politics