As U.S. President Barack Obama visited the atomic-bombed city of Hiroshima on Friday, residents of the Marshall Islands – the Pacific nation used by the U.S. as a nuclear test site after World War II – called for a similar visit by the leader.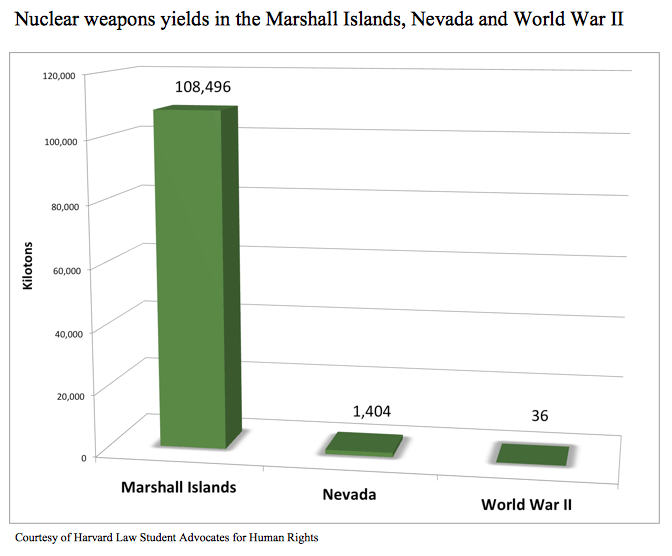 "I question Obama's trip to Japan. Can he come and visit me as I was there during the Bravo incident and got injured," said Nerje Joseph, 68, a survivor of the March 1, 1954, Bravo Test on the Marshall Islands' Bikini Atoll.
That blast has been described as the most powerful of the 67 nuclear tests conducted by the U.S. in the tiny country between 1946 and 1958.
Bigger bomb than in Hiroshima
In a recent interview facilitated by the Radiation Exposure Awareness Crusaders for Humanity-Marshall Islands (REACH-MI), a group focused on the nuclear weapons testing legacy in the islands, Joseph lamented the lack of interest in a trip to the tiny nation.
"The bomb in Hiroshima was smaller than the bomb that affected Rongelap in terms of strength," Joseph said of the atoll where he once lived. "But why (is Obama visiting) Hiroshima and not the Marshall Islands?"
"I have lost my island, my ocean, my culture," Joseph said. "I have lost everything about me. Can Obama come and see me? I am like a coconut floating adrift in the ocean with no set course."
The interview with Joseph, who has been residing in the Marshall Islands' capital on the main island of Majuro since the mid-1980s, were shared with Kyodo News by REACH-MI.
Played in, ingested radioactive ash
Eight days before her 6th birthday, Joseph witnessed the nuclear test from her home on Rongelap Atoll, exposing her and her family to radioactive ash. Unaware of the danger, Joseph playfully applied the falling white powder to her body and also consumed food covered with it. Soon, her lips felt numb, and her skin and eyes felt as if they were burning.
Aside from Rongelap, the inhabited atolls of Ailinginae and Utrok also suffered widespread fallout contamination as a result of the Bravo Test.
Two days later, American soldiers, arriving in astronautlike outfits, ordered residents to leave their homes without taking any of their belongings, taking the residents to Kwajalein Atoll.
Hair loss, thyroid cancer, miscarriages
In a Kyodo News interview two years ago in Majuro, Joseph said that, after the nuclear test, she lived a life she could never have imagined – suffering skin burns and hair loss, both immediate effects of radiation exposure; being displaced from her home. She said she was ridiculed by others for her condition, suffering from thyroid cancer and miscarrying twice while also giving birth to a mentally disabled child.
Rosania Bennett, 45, president of REACH-MI, said by email that if Obama visits the Marshall Islands, he would "see for himself what our nuclear victims go through every single day since 1954 up to now."