Local Communities and Integration: Connections for Effective National DRR and Humanitarian Response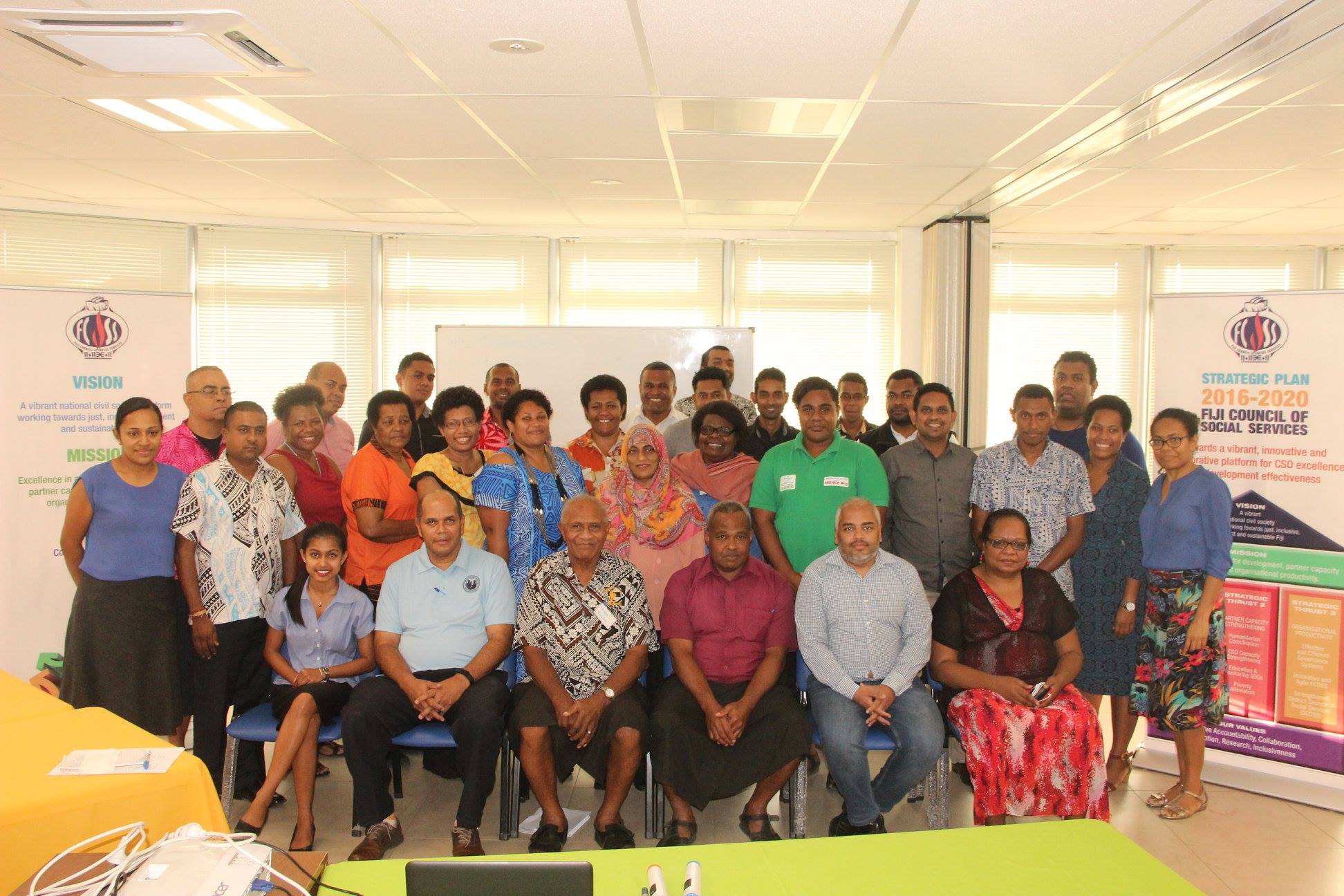 JULY 31 –AUGUST 1 2018.
Moana Anglican Services and Teaching Centre (MAST), DesVouex Rd, Suva City, Central, Fiji
Outcome Statement ; 6th August 2018
Local Communities and Integration: Connections for Effective National DRR and Humanitarian Response
At the conclusion of the Disaster Management and Humanitarian Coordination CSO Review Meeting on August 1st 2018, over 45 civil society representatives from community based organisations, district councils of social services, youth groups, national non-governmental organisations, faith based organisations, regional and international non-governmental organisations and development partners in their deliberations on the ongoing review of the National Disaster Management Act 1998 reiterated their collective commitment to;
a) Ensuring that PEOPLE remain at the centre of all humanitarian responses and interventions
b) LOCALISING humanitarian responses by bringing decision-making power and resources closer to communities, particularly those directly affected
c) INCLUSION of all in community in disaster resilience and humanitarian response efforts in line with the spirit of the Sustainable Development Goals in "Leaving No One Behind" and particularly the vulnerable; children, women, elderly, disabled, LGBTQI and isolated farming communities and families.
d) INTERGRATION and COHERENCE of policies and data for an effective whole of society approach to National DRR and humanitarian responses.
With these as guiding values for their discussions and subsequent recommendations; CSOs call on government to consider as their inputs to the review of the NDM Act 1998:
A) At district level:
1. Increase the capacity of community members, through education, training, community participation and access to information & Localisation.
implement DRR in the school curriculum
2. Develop a common profiling template that is inclusive
3. Regulate a structure that harmonises community approach
4. Safety and security of evacuees to the evacuation centres – inclusivity, resourcing & recognition of other evacuation centres.
5. Follow clear communication and coordination of the existing structure.
B) At the national level,
1. The full recognition of CSOs as an important actor in Humanitarian & DRM by instituting a
CSO engagement strategy policy to improve its engagement with civil society by drawing on the sector's collective strength.
mandating 4 seats for CSOs in the Disaster Council
2. Articulate in legislation appropriate language/communication for key messages (pre and post disaster) to accommodate diverse audience
and to underscore the critical role of all media in communication channels for effective community preparedness, disaster response and humanitarian coordination and support
3. The mandatory collection of disaggregated data to include vulnerable & marginalised communities such as that of the disabled, vulnerable children and LGBTQI
4. Mandatory recognition of the need to support psychosocial services during pre and post disaster for staff & volunteers of humanitarian actors as well as media organisations.
5. Cluster systems to be reflected in the Act
The need for additional policies that articulate ;
a) Representation of CSOs at all levels of national disaster committees
b) Representation to the Council to increase to & in consultation with FCOSS
such as a CSO Engagement Strategy and the socialisation of such policies in the NDMO structure.
6. Standardise materials/tools for data gathering for DRR and humanitarian response to avoid duplication and promote whole of society approach
7. Institute clear reporting mechanisms and timelines for clusters to ensure active participation for all phases of disaster response (pre, during and post disaster)
C) At the regional/international levels
1. Establishment of a humanitarian/DRR policy advisory group which is led by NDMO to include representatives from FCOSS, Red Cross, FBOs, CSOs, INGOs supported by technical experts/consultant.
A terms of reference must be developed in the next three months to guide the work of this policy group. The policy group can be tasked to review all existing policy documents related to DRR and Humanitarian responses
2. Regional NGOs and INGOs recognise and acknowledge that local knowledge and experience is key to effective national DRR and Humanitarian response and support calls to
Ensure that the voices of the local CSOs/CBOs/FBOs are heard in national/divisional committees mandated within the Act Recommend that localisation as an approach is embedded in all relevant Acts & Policies
3. Standardise a data gathering templates common information management system (eg. Situational reports (Sit reps), Post Disaster Needs Assessment (PDNAs), Internal Disaster Assessment (IDA) and PBs)
4. Review and strengthen Standard Operating Procedure policies on DRR and Humanitarian Responses in view of improving how regional NGOs and INGO engage locally
5. Strengthen and streamline NDMO institutional structure so it reaches to community levels where needs may be more pressing
6. Regional NGOs and INGOs are to ensure access and allocate DRR resources at the District level
7. Regional NGOs and INGOs must provide a supportive role to local actors particularly in
Mobilisation of resources
Provision of capacity building for effective DRR and humanitarian response systems
These recommendations were made by representatives from the following organisations at the Fiji Council Of Social Services (FCOSS) and Australian Humanitarian Partnership (AHP) organised CSO Review Meeting from 31st July – 1st August 2018 at the Moana Anglican Services and Teaching Centre in DesVouex Rd, Suva.
# Organization- Representative Name
1 Rainbow Pride Foundation – Isikeli TumaiWakaiya Vulavou/ Lagi Seru
2 YWCA – Cema Bolabola
3 Catholic Women's League – Asela Naisara
4 Nadi Muslim Womens League – Julekha Mustapha
5 National Youth Council – Veresa Ceguadrau
6 Bua Urban Youth Network – Ilikini Bulidama
7 Nadroga DCOSS/FCOSS – Selita Donu
8 Labasa DCOSS/Labasa District Youth Council – Mohammed Shanil
9 Save the Children Fiji – Suliasi Sarosaro
10 Fiji Disabled Peoples Forum – Lanieta Tuimabua
11 Nadroga DCOSS/FCOSS – Kunaika Sitiveni
12 Nadroga DCOSS/FCOSS – Surjeet Ram
13 Tavua DCOSS/FCOSS – Sereana Rakalo
14 Partners in Community Development Fiji – Peni Seru
15 Citizens Constitutional Forum – Sevanaia Tuicau
16 Ecumenical Centre for Research Education and Advocacy – Georgina Young
17 Pacific Islands Association of NGOs – Josaia Jirauni
18 Oxfam Fiji/Pacific – Mereoni Kelewai
20 Media Watch Group – Filimoni Tuiteci
21 Pacific Centre for Peacebuilding – Viliame Veiqaravi
22 Global Compassion – Kesaia Catanasiga
23 Vodafone Foundation – Philanthropy Pacific – Neil Maharaj
24 Fiji Council of Churches – Rev Iliesa Naivalu
25 Lifeline Fiji – Jeremaia Qalobula/ Tima Rokotagane
26 WWF Pacific – Manasa Cavuilati
27 LDS Charities – Paul Whippy
28 Fiji Landowners and Nature Keepers Network – Bulou Rauto
29 Olafou Fiji – Tomu Raiviu
30 Social Education and Empowerment Programme – Leo Nainoka
FCOSS acknowledges the support of its AHP partners; ChildFund Australia, Plan International and the Fijian Government National Disaster Management Office NDMO in this initiative.
Note: FCOSS is the National Liaison Unit (NLU of PIANGO).
Photo credit FCOSS.