Fiji's president, Retired Major General Jioji Konrote and 1996 Nobel Peace Prize Laureate, Jose Ramos-Horta will feature in the official opening of the International Civil Society Week (ICSW) 2017 this afternoon at Lami's Novotel Hotel.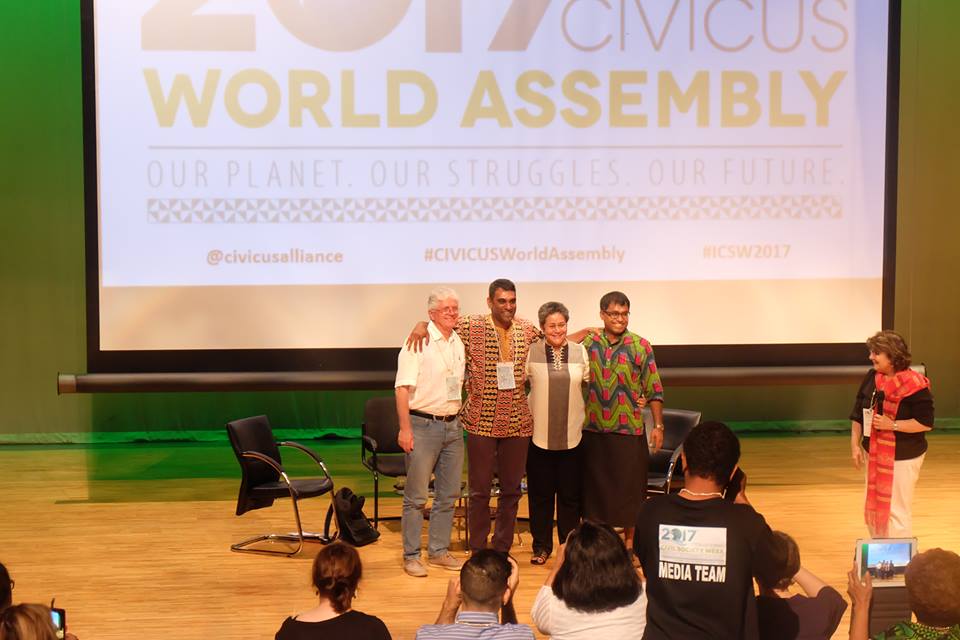 Tagged by civil society pundits as the biggest gathering of civil society actors in the world and hosted locally by the Pacific Islands Association of NGOs (PIANGO) in partnership with CIVICUS; the Global Civil Society Alliance, ICSW will be officially opened by Major Gen (Ret'd) Konrote after a full iTaukei traditional welcome ceremony or veiqaraqaravi vakavanua for 500 plus delegates from around the world.
Major Gen Konrote will deliver his official welcome address after the former President of East Timor and 1996 Nobel Peace prize winner, Ramos-Horta delivers the keynote address at the opening.
"A big draw to this year's ICSW has been the line-up of eminent speakers that CIVICUS has managed to bring to the event, people like the Nobel Peace Laureate, His Excellency Jose Ramos Horta, former Prime Minister for New Zealand, Her Excellency; Helen Clark, Ms Jayathma Wickramanayake, the United Nations Secretary-General's Envoy on Youth, Greenpeace International executive director, Dr Kumi Naidoo and Standing Rock indigenous leader, Mr Dave Archambault," PIANGO executive director, Emele Duituturaga said.
Fiji Government Endorses ICSW 2017
Duituturaga said besides the international speakers, regional leaders such as Forum Secretariat's secretary general, Dame Meg Taylor, Tongan academic, Professor Konai Helu Thaman, Pacific activists such as the Diverse Voices in Action (DIVA) for Equality Network, Climate Action Network Pacific and Pacific Disability Forum will either be speaking, organising or participating in events that will run through the whole week.
"We are especially grateful that the Fijian government has given its full support with the Fijian cabinet recently endorsing the hosting of ICSW in Fiji. That has really boosted our efforts and morale as Fiji-based hosts for the event," Duituturaga said.
Pacific CSOs Key To ICSW 2017
"Our Pacific delegates arrived a week earlier as part of our efforts to prepare ourselves as a regional CSO family and movement to participate effectively in this international event,"
Earlier in November, CIVICUS secretary general, Dhananjayan Sriskandarajah paid tribute to Pacific civil society in an article penned for Open Democracy Net.
"The Pacific region has a vibrant diverse civil society, known for their efforts on global issues from tackling climate change, banning nuclear weapons and protecting our oceans," Sriskandarajah said in the article, titled Putting the Pacific on the Map.
"But many of the countries in the region, along with other small island states around the world, were already struggling with other development challenges, before climate change made things worse."
He said by bringing together civil society from around the world, ICSW offers an opportunity to strengthen local and regional civil society efforts.
ICSW As A Global CSO Exchange
"Last year's event, held in Bogota, Colombia, allowed international civil society to see first-hand the efforts of Colombian civil society in peace building. This year, it will allow civil society delegates from around the world to explore the frontlines in the global fight against climate change, including on the increasingly important issue of how we deal with climate-induced displacement," Sriskandarajah said in an article penned for Open Democracy Net earlier in November.
"These efforts have been shown in Fiji's big presence in foreign diplomacy relative to its size. This includes taking the lead as the first country to officially sign the Paris Climate Agreement and pass it into national legislation."
"Fiji is also a leader in climate action. It has pledged to go 100 percent renewable by 2030, alongside other Pacific countries including Vanuatu, Philippines, Kiribati, Marshall Islands, Timor-Leste, Tuvalu, Palau, and Papua New Guinea."
Leaving No One Behind
He said however these efforts will be futile if the rest of world does not take seriously its' commitment to leaving to no one behind in building a more just, inclusive and sustainable world.
PIANGO board chair, Sarah Thomas-Nededog during a presentation at last week's Pacific Regional CSO Forum in Suva urged Pacific CSO representatives to maximise their participation at ICSW and make valuable connections.
"I know as Pacific islanders, many times we are respectful, quiet and quite comfortable within our boundaries. But ICSW is here and we need to go out there and do what we do best, network!" Thomas-Nededog said.
"Let's network with others, let's connect our needs to the resources that will be made available at this conference."