KANGO, the national NGO platform and IFP and PIANGO member, benefitted from a support mission from PIANGO staff, focusing both on the VNR process and also on CSO accountability mechanisms. This activity is part of the IFP's support for its regional and national members' capacity development.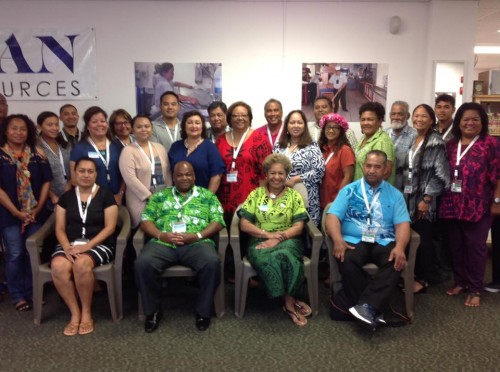 Kiribati's preparation of its SDG Voluntary National Review (VNR) to the 2018 UN High Level Political Forum (HLPF) in July should be commended says the Pacific Islands Association of NGOs.
PIANGO executive director, Emele Duituturaga who was in Kiribati to attend the VNR multi-stakeholder consultation, says the Kiribati government-led preparations deserves support.
"Kiribati has already begun its preparations for the July HLPF in earnest and we were pleased to note government's efforts to be inclusive of Kiribati's civil society in its planning and preparations," Duituturaga said.
Duituturaga said she was pleased to note that a VNR Task Force had been established and was confident that civil society would be represented in its composition.
Apart from supporting Kiribati CSOs to participate in the VNR reporting, the PIANGO mission visit to Kiribati this week was to provide direct capacity building support to PIANGO National Liaison Unit (NLU) member – Kiribati Association of NGOs (KANGO).
"With support from the Pacific Islands Forum Secretariat(PIFS) Non- State Actors(NSA) Grant, KANGO will be able to expand their office operations and focus on organisational development with the recruitment of an officer," she said.
"KANGO has been exemplary in its efforts to develop and contextualise their own Code of Minimum Standards (CMS) as part of a region-wide initiative for PIANGO members to address CSO accountability mechanisms. Organisational limitations have been the challenge," Duituturaga said.
The adoption of the CMS will be the focus of the KANGO annual general meeting this weekend. Duituturaga said the PIANGO team also met with other CSO leaders to encourage CSO coordination and collaboration across the sector.
"This included attending the launching of the Red Cross Society Strategic Plan 2018 -2020 and a courtesy briefing with His Excellency, the Kiribati President."
Duituturaga said PIANGO would continue to work with KANGO in the lead up to HLPF in July in New York.
"Our support to our members and partners for SDGs and policy influencing is made possible with the contribution of PIFs, European Union, Bread for the World and the International Forum for National NGO Platforms (IFP)."